Sheath grooving machine that have high precision
Image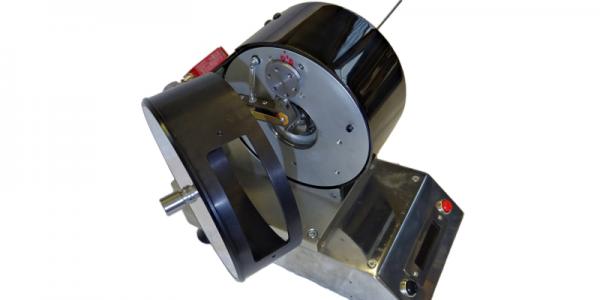 Features
This machine preprocesses the mineral insulated cable for the next stripping phase by cutting the metal sheath almost to the insulation but not completely so as not to push the material inwards.
With this machine the cable remains stationary and instead turns the rotating blade that don't remove material and therefore no chips accumulate.
Precise cutting depth adjustment with great reliability by large use of stainless steel and titanium for a continuous use with automatic motor standby.
Fully automatic grooving process with electromagnetic clamping system and auto detection of cable diameter.
Very simple to set-up and operate with an process inspection window.
Sensors and Microprocessor for control and security with an OLED display that report required incision Depth %, detected cable Diameter, Actual Status and Position plus other data for maintenance.
The working area can be opened for blade or collet changing as a secured door.
Processing
inserts the cable up to the stopper that acts as a length adjustment and as auto start contact
the cable is automatically locked and the rotating blade reaches the cable
the machine recognize the outer diameter of the cable and makes the incision as required
Specifications
Application Range from 0.5mm up to 6.0mm of cable diameter.
Sheath Material: Stainless Steel / Hastelloy / High melting point Alloys.
Equipment in conformity with CE safety rules.
Blade rotates over cable at 800rpm (adjustable)
Power supply: 230V single phase 50/60Hz, 200W
Dimensions: (LxWxH)  200x250x250mm  15Kg
Cable hold collet sizes:  0.5  0.8  1.0  1.5  2.0  3.0mm diameter (other diameters on request).
Our cutting blades are specially designed to be high quality blade, made from High Cobalt Steel and finished with special surface treatments for cutting Stainless Steel.
Gallery
Image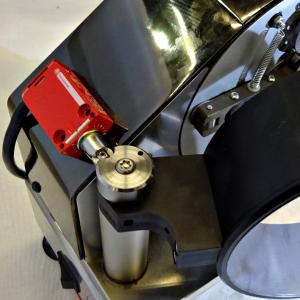 Image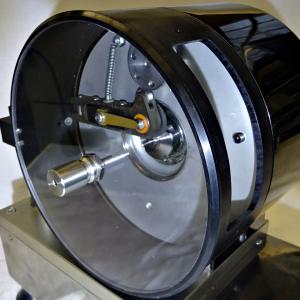 Image