Multipurpose and Flexible sheath grooving-cutter machine for mineral insulated cables
Image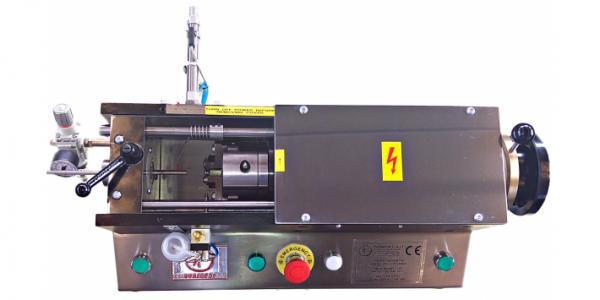 Features
Sheath grooving-cutter machine for Mineral Insulated Cables ranging from 1mm up to 13mm diameter.
Fixed piece working through rotating knives.
Very simple to set-up and operate.
No material removal, No metal chippings.
Precise and repeatable results.
Universal clamping system.
Ability to work long or shaped cables.
Inspection window for manufacturing process control.
Great reliability with large use of stainless steel and titanium.
Fully automatic grooving process.
Sensors and Microprocessor for control and security.
Continuous use with automatic motor standby.
Active and adjustable lubrication system of cutting wheel that making sure that no lubricant gets in contact with the workpiece.
Noiseless manufacturing process.
Precise adjustment/indicator hand-wheel of grooving depth.
Pressure, Feed and Speed rate adjustment of Blade wheel versus cable sheath.
Setups to optimize the work according to the range of cables to be processed:
standard setup to cover large part of diameters,
special setup for Small cables, for Big cables, for Short Cables.
Our sharped cutting blades allow a clean and precise incision so as not to carry metal towards the inside of the cable.
Unlike commercial blades, these blades have a cutting profile optimized for these processes and are made with a material that is hard enough to maintain the cutting diameter so as not to have to continue adjusting the cutting depth.
Processing
inserts the cable up to the workpoint stopper, tighten the cable chuck and press the two green start buttons
the cable will be moved under the cutting spindle and the rotating blade reaches the cable
the blade will reach the set groove depth and after a couple of turns it will return up
after which the cable will come out of the cutting area and it will be possible to extract it
Specifications
Workable diameter according to the setup:
from 1.0mm to 3.2mm   Setup "A" for Small cables   with Accessories
from 4.5mm to 13mm    Setup "B" for Big cables      with 3 Blade wheels
from 1.0mm to 6.4mm   Setup "C"

Standard Setup   

with 1SharpedBlade+2CenteringWheels
from 3.0mm to 6.4mm   Setup "D" for Short cables  with

1SharpedBl + 

Special parts
Cable Lenght Limits: The machine has a through hole along the entire length so:
 for cables with a diameter < 6.5mm there are No limits to the Maximum length and working point
 for cables with a diameter > 6.4mm we have a Maximum of 38mm from the Head to the working point.
The minimum workable length of the cable is 100mm with the standard machine
 and it can be reduced to 80mm with a rework of cable blocking chuck
 and is reduced to 45mm in the special version for Short cables (Setup "D")
Power supply:  400V / 230V  Three phases  50/60Hz  0.7kW   (220V Single phase on request)
Air supply: 2 ÷ 6 Atm

Dimensions: 600x240x300 mm
Weight: 40 Kg
Equipment in conformity with CE safety rules.
Mounted parts:
1 Sharped blade wheel Ø 20
2 Centering wheels Ø14.5
3 Reinforced Pins for wheels
3 Special steel Washers for wheels
3 Titanium Jaws for wheels/mandrel
Included Accessories and Spare parts:
1 Cable Centering Cone
1 Grease Pump
1 Sharped blade wheel Ø 20
3 Commercial cutting wheel Ø20
3 "Washer" for wheels
Optional parts:
Accessories for Small cables: Centering Bushes for a specific diameter and relative support
Special Parts for Short cables: Special cable carriage with special cable chuck + connecting rod
Gallery
Image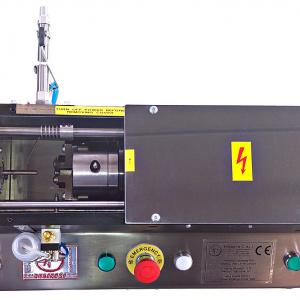 Image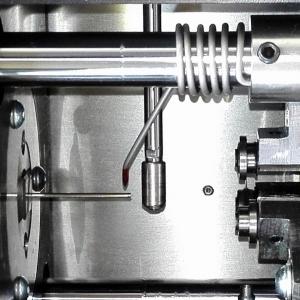 Image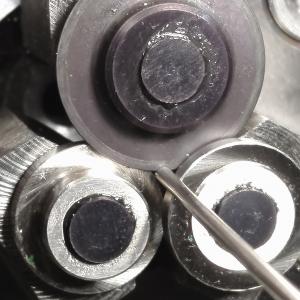 Image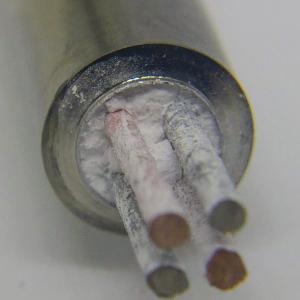 Image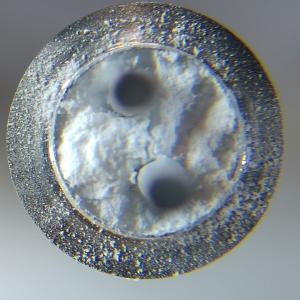 Image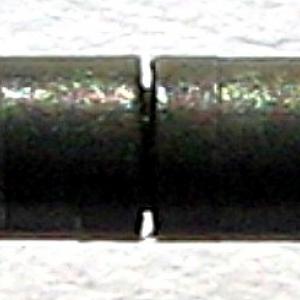 Image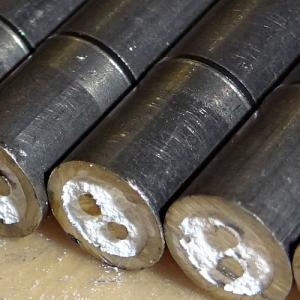 Image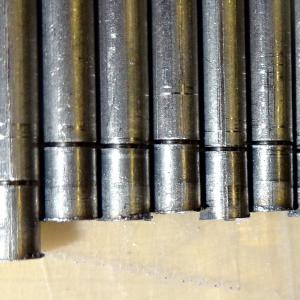 Image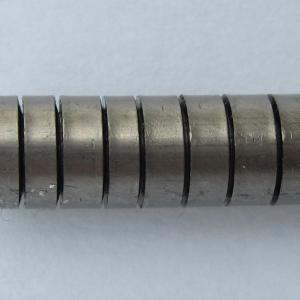 Image
Image